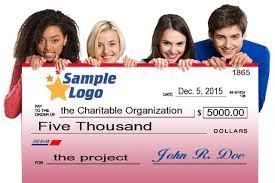 Easy Steps for Creating Your Own Presentation Check for State:
(This project can be completed by 3 students in an hour or less!)
18X36 is as standard size for most presentation checks but feel free to be creative.
Gather the following:  large poster board or foam core board, permanent markers, rubber cement, copy of your troupe logo, colored masking tape or spike tape.
Cut your board in half and tape edges together from behind to make a large check.
Determine how much money your troupe raised for Broadway Cares/Equity Fights AIDS from after STATE last year to your most recent fundraising effort (whether some of that money has already been sent as a donation to BC/EFA or not).  This is the amount you will write on the "DOLLARS" line of your check.
Use a pencil to rough out the check element placements, then create the basics with a thick-tipped black Sharpie marker.
Glue your Troupe Logo (or theatre company logo) in the upper left-hand corner. 
Fill in the date,
The "pay to the order of" line should say BROADWAY CARES/EQUITY FIGHTS AIDS.
Fill in the amount of your total donation in numbers in the box after the "$", then write that amount out in words on the next line.  
On the "for" line, write Indiana Thespians BC/EFA fundraiser and complete your check with the name of your theatre company and your troupe number.
Hints: You may wish to use colored masking tape, duct tape or spike tape to add a colorful border around the edges of your check. You can also go online for examples of other presentation checks.
Determine in advance who from your troupe will be presenting your check at State so our presentation on Sunday can move quickly. Thanks so much for your participation.